Objective
Development of the minimal and stylish website for the international real estate agency - Insight City.
Creating an international premium real estate agency from scratch.
To make a real estate agency site, it is necessary to analyze all aspects and create a business concept of agency.
The founders of Insight City have an impressive experience of work abroad, but did not work on the Ukrainian market and could not take into account all the nuances of work here. Saturated market, a lot of offers from realtors, a lot of different sites and misunderstanding how to get around everyone and make the best product on the market.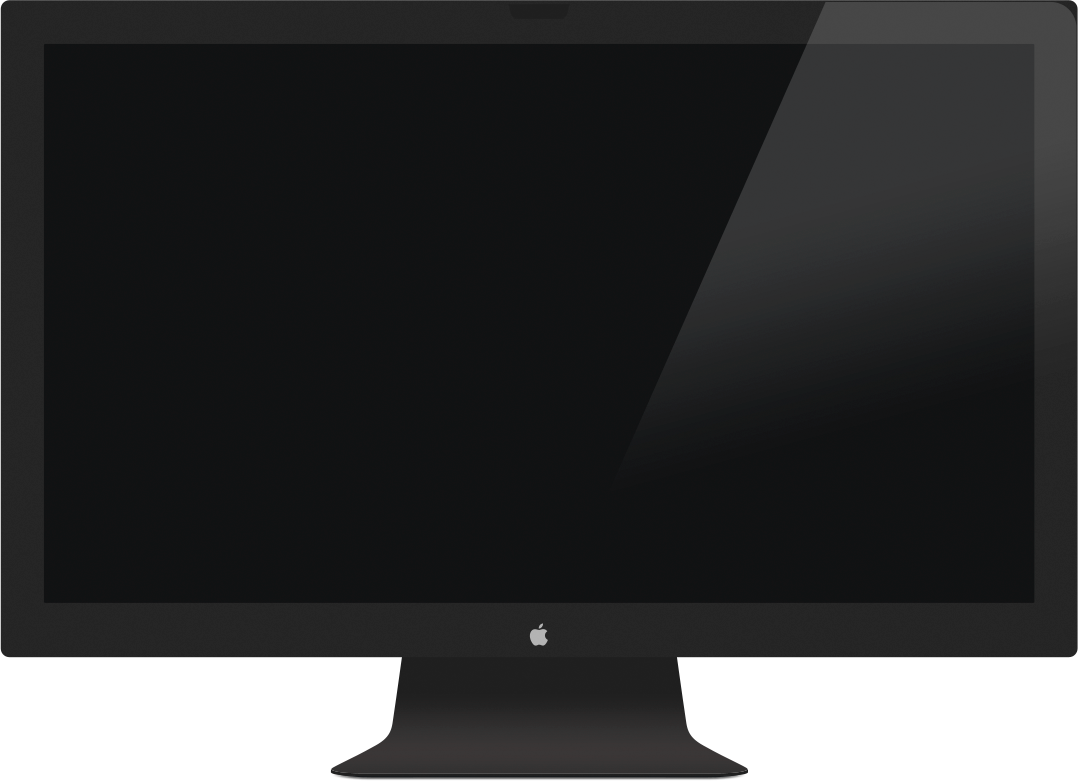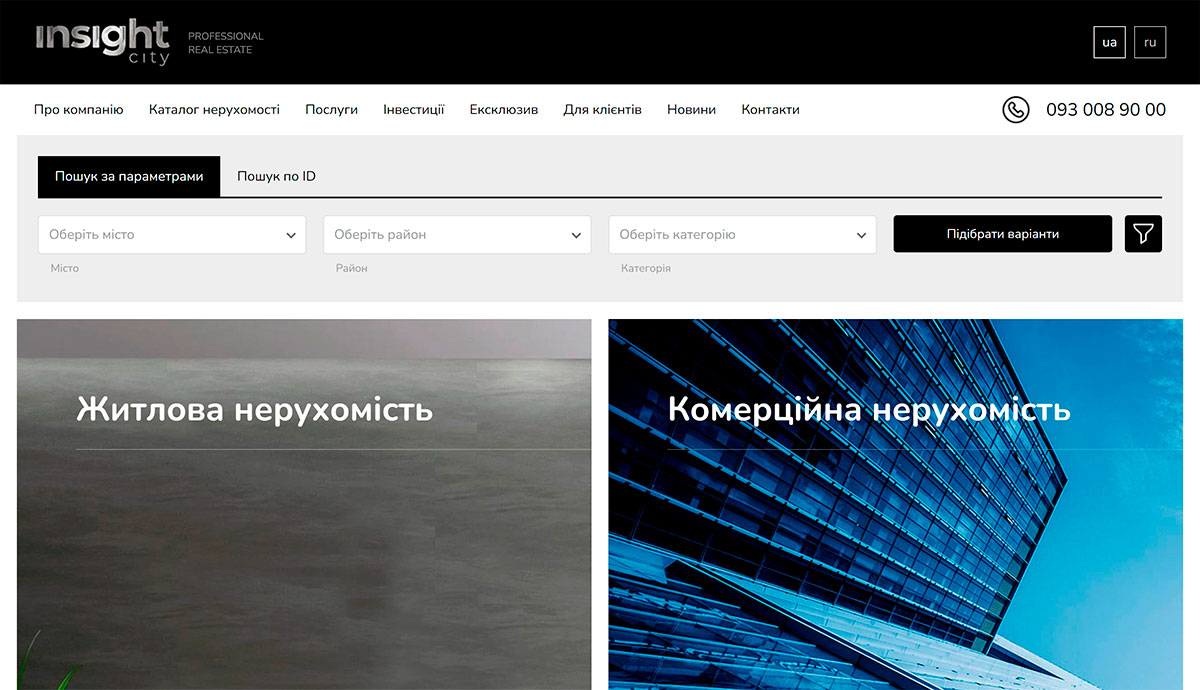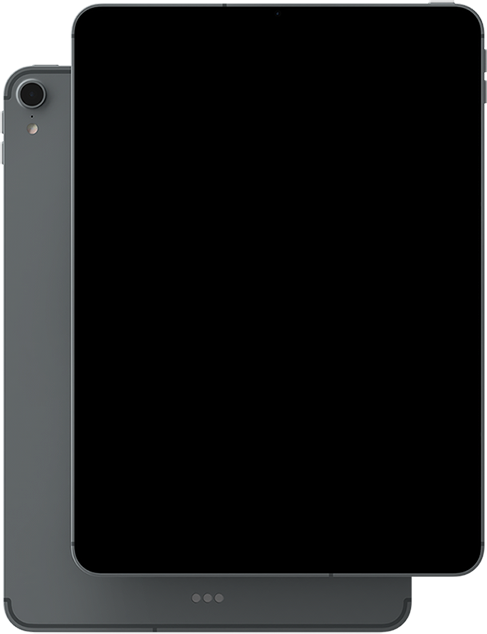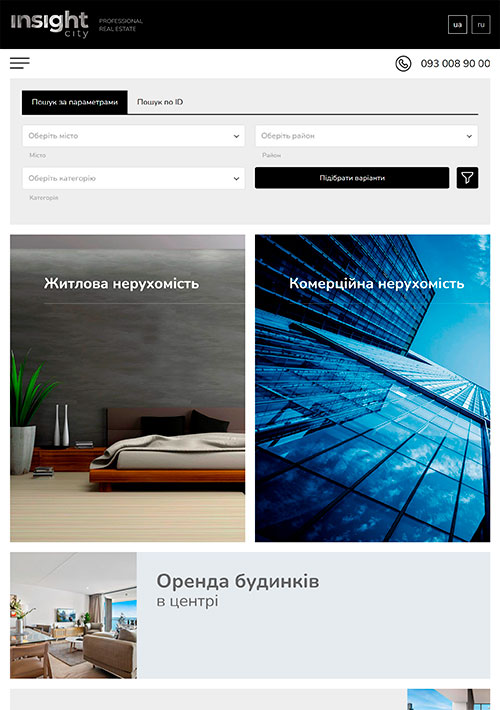 Development
It was created dynamic and convenient designed site for estate search.
After market explore, we detail all possible nuances with the owners of premium real estate agency.
We identified key strengths to be emphasized and discussed how we can strengthen or circumvent the imperfections and complexity of the real estate market in Ukraine.
We have developed a special concept of work and stages of development of site of premium real estate.
The schedule of work and the implementation plan for the year were approved.
Launched the basic version of the website of the real estate agency in the approved time.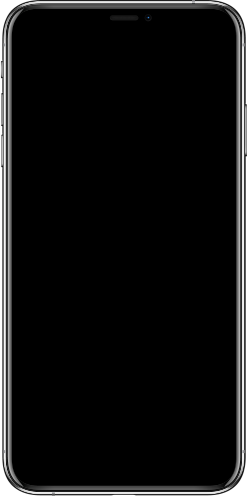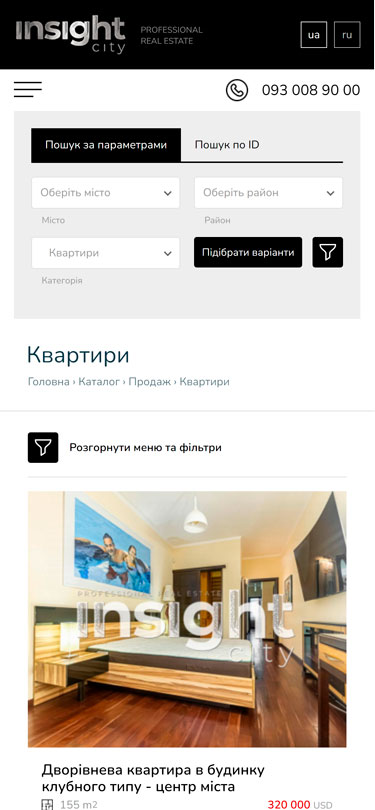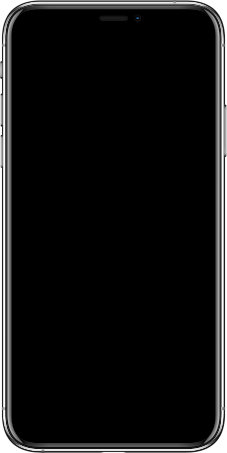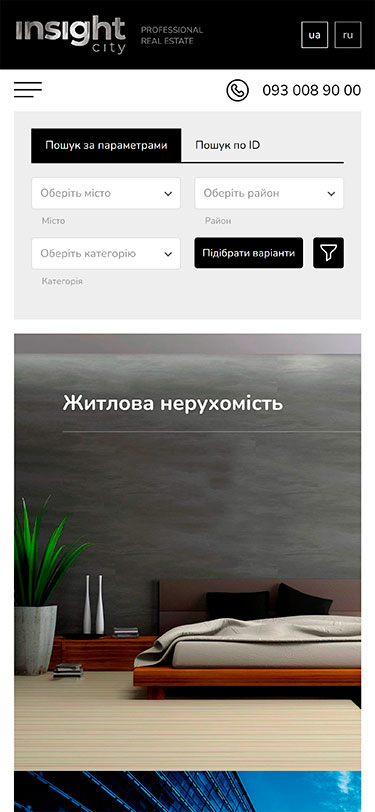 Outcome
The site powered by the unique commercial platform from mc design studio.
High speed, cool design, convenient interface.
The site is adapted for all mobile devices and works in two languages - Russian and Ukrainian. English version is in the process.
Developed a bold and stylish minimalist brand book in black and white with elements of silver and red.
The customer is not afraid of unexpected and categorical decisions, which are advantageous to the other participants of the real estate market.
The basic functionality for the catalogue of premium real estate has been developed with the necessary set of filters and labels for the main categories of real estate. Special attention to the card of the object: large photos, clear description and a convenient map with the location of the property.
In a short time make the site as a working tool for the real estate agency. And further, we are successfully working on extend of functionality of the real estate catalogue, additional modules and website promotion.
See also:
By topic: real estate agency, website for a real estate agency, professional Ukrainian real estate agencies, corporate website development, product catalogue website, corporate identity development, luxury real estate agency